Our vision at Constructivist is for engineers to have the creative, problem-solving and self-starting skills they need to tackle the ever more complex challenges that society faces.
Our mission is to train the next generation of engineers to identify problems that need solving, find creative solutions to those problems and to seek out the skills they need to deliver those solutions.
Our approach is to design teaching and training which is:
Inspirational – when learners are inspired the possibilities are endless
Problem-based – in which engineers develop the ability to identify and solve their own problems
Focused on building creativity skills – providing a systematic approach for engineers to build their creativity
Action-based – paying particular attention to how new skills are built in daily workflows.
Founder + Director – Oliver Broadbent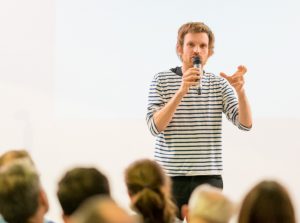 Oliver Broadbent works with leaders, teams and organisations to help them build their creativity. He trains engineers and architects in conceptual design, and works with universities and colleges to create innovative new approaches to engineering education.
Oliver is a Royal Academy of Engineering Visiting Professor in Experience-led learning at Imperial College London. He writes and podcasts about engineering, creativity and practical philosophy – read more at
eiffelover.com